Hi SparkFriends
I'm happy to announce an amazing new partner today!
Here is the story behind this announcement:
A couple of years ago, I wrote a weekly SparkGuy email about showing the movie "October Sky" to my kids. I talked about how this was one of my favorite all-time inspirational movies and I was excited about sharing this inspiration with my kids and with our members.
If you haven't seen this movie, it's based on a true story about the life of Homer Hickam and his friends called the Rocket Boys. They were a group of kids in a poor coal-mining town in West Virginia named Coalwood who built rockets in the 1950s as a response to Sputnik. Homer ended up defying all odds including his strong-willed father to reach his goal to become a rocket engineer for NASA. He also became a bestselling author selling nearly 1 million books including his true life stories plus a group of fiction books. He also reached many other goals in life. The movie scores a very high 7.8 on IMDB and
5 stars on Amazon
.
After I sent the email, Homer's wife Linda wrote a comment on my blog thanking me for the strong recommendation. It turns out that Linda is a longtime SparkPeople member!
Recently I got in touch with Linda and Homer about the SparkEarth/SparkAmerica campaign and talked about partnering and they were very enthusiastic. It turns out we have many similar goals to continue making a big impact on the world and thought it would be fun to team up.
After talking with Linda a couple of years ago, I read 3 of the books Homer wrote about his hometown Coalwood, the setting for "Rocket Boys"/"October Sky". The name of the original book was "Rocket Boys." As is often the case, the books are even better than the movie since Homer is such a great storyteller! Homer and Linda sent a signed copy of the fourth book in the series that I will read soon. They also sent the fun photo below: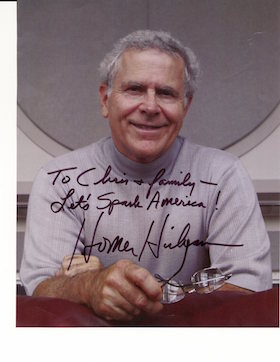 Homer and Linda coming on board is an example showing that SparkEarth/SparkAmerica is not just about health and fitness, but is also about leadership development, goal-setting, community support, and more.
This is the type of story that every adult and child should read as a way to learn to work hard to reach their goals one step at a time even when there are strong difficulties in the way. Linda says the books are rated for 8th grade and above. I showed the movie to my boys when they were in 3rd and 5th grade I believe.
I love this type of story that can authentically move people to take positive action in their own lives. And then the story remains a great motivator when times get tough because of how Homer overcame obstacles. We will integrate Homer's books and movie as recommended reading/watching plus likely do other projects together including interviews and possibly articles by Homer updating us on his projects to help people.
The story is also a great reminder of something we talk about here -- that a small group of people can do something amazing with the support of each other. This is another example showing how the SparkPeople community can make a big impact on the whole world.
These books/movie get my highest possible recommendation for anyone. If you'd like to take a look, here is where you can find the books/movie:
I told them that this is a huge highlight and honor for me to have them join this campaign because of the longtime inspiration from Homer's story -- and said "hopefully rockets and sparks go well together!"
Here was their response:
You bet! Then, watch out and AIM HIGH!
--- Linda and Homer
Let's all keep aiming high! And
please join me in welcoming Homer and Linda in the comments on this blog
-- they will be looking at the comments!
SparkCheers!
Chris "SparkGuy" Downie
Chris (SparkGuy)
---
Thanks for your support! My goal is to help you reach your goals with motivation, information, and anything else I can figure out. Please just unsubscribe below if this email bugs you for any reason:
Click here to UNSUBSCRIBE from this email
To unsubscribe by postal mail, send a letter or postcard with your email address to: SparkPeople, 310 Culvert Street, Suite 301, Cincinnati, OH 45202
© 2014 SparkPeople, Inc. All rights reserved. |
Terms & Conditions
|
Privacy Policy
|
Manage Emails